There are many times when you just want to explore the world and have fun. The Darjeeling Himalayan Railway was created just like that, to offer people the ability to access an authentic train and have fun as they explore all the unique possibilities that it has to offer. This is an amazing railway that has around 78km, which is long and full of interesting design choices.
For example, you have elevation levels of around 100m at times, but you also get close to 2200m near Darjeeling.
What you will enjoy the most about the Darjeeling Himalayan Railway is that it uses only the very best B-class steam locomotives. In order to offer a very authentic and fun experience, you do get to check out steam locomotives and these are as amazing as you would imagine them to be. The true benefit of using these locomotives is that you get to have slower speeds and thus it's a lot easier to explore the entire region in all of its glory.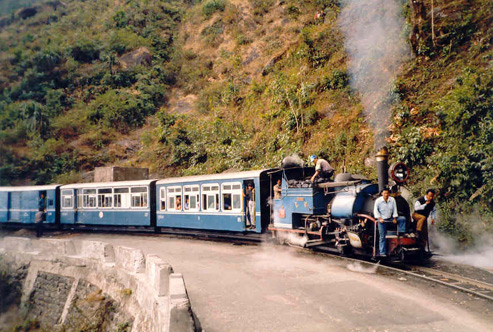 Moreover, you will find that the train does have many stops which allow you to reach a wide array of magnificent locations without a problem. It can be a delight to visit all these great places and the experience is surely an incredible one for that reason alone. You will also enjoy the sheer attention to detail and the immense value delivered here. The Darjeeling Himalayan Railway is full of unique options and incredible features, plus it's just a joy to explore each and every time. Nothing is impossible when you come here, it's a place full of joy and fun, one that will impress you right from the start.
The railway on its own was created in 1878 and since then it was operated continually, in fact it was stopped only a single time due to legal purposes, but other than that it was just an incredibly fun and diverse experience as you can imagine.
Thanks to the Darjeeling Himalayan Railway you get to access a wide array of beautiful places, but the railway on its own is a world heritage site, mostly thanks to its history and uniqueness. It's the authenticity and integrity of this railroad that makes it so distinct and unique in the first place. So, if you are a fan of great railroads, this might be one of the best options in India.
The differences in elevation levels, fun locations and all the other cool stuff is designed to bring you an immense value and that's what matters the most in the end. While managing such an amazing heritage site is hard, it's safe to say that there is a lot of value to be had and you will gain an impressive way to study the local experience for sure. If you ever have a chance to visit Darjeeling – may be on a honeymoon don't forget to take a ride in 13 km long Darjeeling Ghum toy train and you will be impressed with the sheer uniqueness. You will be very interested and amazed with this place, that's a given!